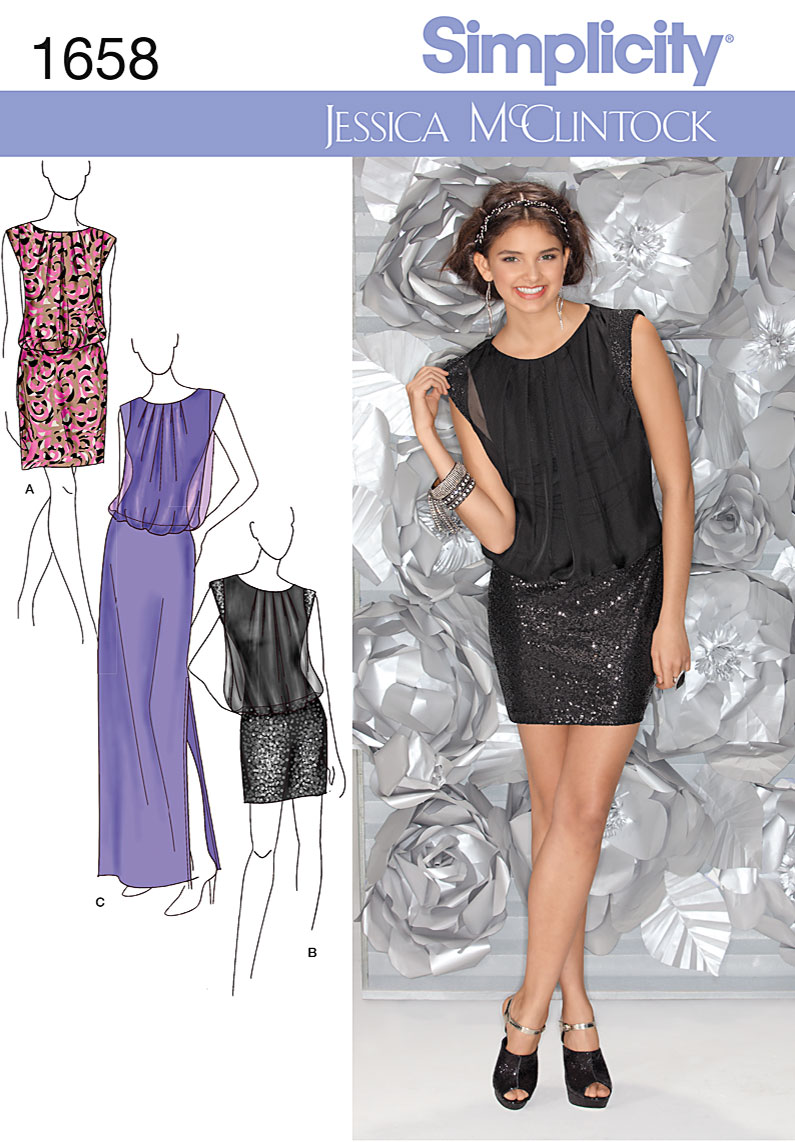 Pattern Description: Depending on the view you decide to sew and that fabric you use, this dress can be a nice everyday dress, date night dress or worn for a cocktail or evening event.
Pattern Sizing: 14-22
Did it look like the photo/drawing on the pattern envelope once you were done sewing with it? Yes
Were the instructions easy to follow? Yes
What did you particularly like or dislike about the pattern?
I loved the simplicity of the dress. I had just the right amount of flair! However, I did not like the flange in the sleeves. I sewed the pattern with them initially, but went back and removed them.
Fabric Used: For the under layer and lining, I used a light weigh fabric (unknown…something I had in my stash). For the over layer I used organza. The skirt was made out of a medium weight stretch satin. The skirt to this dress is fitted and there are no waist darts.
Pattern alterations or any design changes you made: Looking at the pictures and the drawings, I suspected that I would not like the flange sleeves, but cut and sewed the dress according to the instructions. Once I finished it, I realized I DID NOT LIKE the sleeves for sure! So I took them off.
I also used French seams and a rolled hem on the organza so I could have clean edges all the way around.
Because of my height (and age). I added about 2" to the hem so the hemline would be right at my knees.
Would you sew it again? Would you recommend it to others? Yes, I would sew it again. I needed this dress to wear out last night, and it was perfect for the occasion. I did make a few mistakes that I need to fix. I would definitely sew it again, it's a very cute and comfortable dress. Next time I make it I will go for a day look. Yes, I would recommend it to others, it was fairly easy to sew, instructions were clear and it is a VERY comfortable dress to wear. I got lots of compliments on it.
Conclusion: Loved it because I was able to accomplish two things…had a cute outfit to wear out last night, and sewed up about 5 yards of fabric out of my fabric stash!