When I moved into my house last summer, I decided I was going to put my sewing/craft room in the extra bedroom that faced the front of the house. That way I can see out the front window and all the happenings in the neighborhood. Needless to say, that room was very un-inspiring.
Last week as I sat at my dining room table hemming some curtains I was making for my niece's bedroom and the thought crossed my mind..."why am I NOT in my sewing room doing this???" As I looked around, I realized what I liked about the dining room was that I could see out my patio door (lots of natural light and a nice view) and that I could see my TV in my living room.
So I pulled everything out of both rooms and started moving things around. It's still a work in progress, but I feel "inspired" already. Hopefully by the end of the week I can have all my fabric stash sorted and reorganized.
I took a break or too to surf the net and ran across this contest on Pattern Review. An thought it would be the perfect contest to get my sewing mojo back and use some of the patterns I have that I have not tried yet.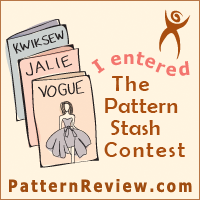 The contest starts March 16th, and ends April 30th.